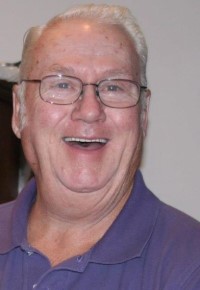 Johnnie Granville Walls, 79, of Statesville, N.C., was reunited with his Heavenly Father on May 6, 2021 at 7:12 a.m. at the Gordon Hospice House. He was born on April 13, 1942, in Davie County, a son of the late Roy Adam Walls and the late Cora Jane Lankford Walls of Cooleemee, N.C.
Johnnie was lovingly known for his immense love for his family, his kind heart, his great laugh, his protective nature and immediate willingness to help someone in need. His outgoing nature gave credence to the phrase "He never met a stranger," repeatedly demonstrated in his innate ability to talk to anyone without hesitation. He loved spending time with his family, including his great fondness for his relationship with his brother-in-law, Melvin Johnson. He loved catching up with his buddies at the many places that knew him as a regular patron, always greeting everyone with a comment that was sure to bring a smile or a laugh. NASCAR race days and Atlanta Braves baseball were a huge favorite of this life-long fan, as well as fishing, gardening, spending time at the beach and tinkering on projects.
Throughout his life Johnnie wore many hats. He began employment at Burlington Industries as a young man, and continued to make many lifelong friends while working at Bell Construction Company, Man Bus & Truck and Southern Furniture. Johnnie and his wife Donna Johnson Walls were the proprietors of Johnny's Tavern, Walls Grocery, and Walls Vending with Johnnie finding his calling in renovating historic homes as well as many others.
Johnnie was preceded in death by his beloved parents; his grandson, Tyler Christian Puckett; sister Patricia Walls Greene; brother, Donnie Ray Walls; and brother, Eugene Adam Walls.
The great love of his life for 56 years, Donna Johnson Walls of Statesville, whom he married May 22, 1965, cherishes the love and memories they shared. Beautiful memories and the knowledge of the unbridled love he held for his children will bring comfort to his daughter, Rhonda Walls Puckett and her husband David Puckett of Asheville, as well as to his son, Dale Granville Walls and his wife Virginia Trueman Walls of Statesville. He was Pawpaw to his grand-daughter; Jordan Alexandra Puckett, whom he loved and cherished dearly. He also enjoyed getting to know his step-grandchildren, Makenzie Weiderman and Dylan Trueman.
He is survived by his brother, Michael Walls (Linda) of Woodleaf, and will also be fondly remembered by his extended family, including numerous nieces, nephews and dear friends.
Memorial donations may be made to the Gordan Hospice House, 2347 Simonton Road, Statesville, NC 28625. Johnnie's desire to be cremated will respectfully be carried out by Troutman Funeral Home.
The family will hold a private celebration of Johnnie's life at a later date.
Troutman Funeral Home is serving the family.