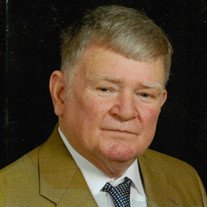 Johnny Ray Hayes, 75, of Mooresville, N.C., passed away on Friday, April 9, 2021, at Gordon Hospice House in Statesville. Born December 25, 1945, in Iredell County, he was the son of the late Alfred R. Hayes Jr. and Betty Sherrill Hayes.
Mr. Hayes was a 1965 graduate of Troutman High School. He worked as a Courtroom Clerk for the Iredell County Clerk of Court for 34 years. Mr. Hayes served on the Alcohol Beverage Commission for 13 years. He also worked as a scoreboard operator for the Mooresville Recreation Department, school bus driver for the Iredell-Statesville Schools and kept stats for the Mooresville football team. He was a member of First Baptist Church, Mooresville, where he enjoyed going on Mission Trips with the church.
Mr. Hayes was preceded in death by his wife, Lori Adelina Constance Hayes; and a sister, Eugenia Ponda Lambert. He is survived by his daughter, Stacey H. Walker and husband Fountain; grandchildren, Hunter and Harley Hill; great grandson, Waylon Hill; niece, Amy Dixon and husband Scott, and nephew, Shawn Barnhardt; great niece, Katie Moore and husband Michael, and great nephews, Tyler and Josh Dixon; great-great nephew, Brycen Moore; and cousins, Erika Reid and Ann Starette.
Funeral services will be held at 2 p.m. on Wednesday, April 14, 2021, at the Cavin-Cook Funeral Home Chapel, Mooresville, with Dr. Jerry Cloninger officiating.
For those who are unable to attend the service, you may go to the following link for the live stream: https://www.youtube.com/channel/UC864hAs96dTRLVVL1la0Qlw/videos?view=2&flow=list
The family will receive friends from 6 to 8 p.m. on Tuesday, April 13, 2021, at Cavin-Cook Funeral Home, Mooresville. In lieu of flowers, memorials may be made to Gordon Hospice House, 2341 Simonton Road, Statesville, NC 28625.
Cavin-Cook Funeral Home, Mooresville, is serving the family of Mr. Hayes. Condolences may be made to the Hayes family at www.cavin-cook.com.