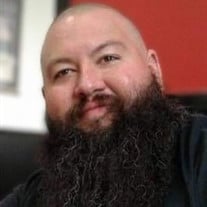 Joshua Richard Wilson passed away May 18, 2021, at the age of 35. Josh was born in Salt Lake City, Utah, but moved with his parents to North Carolina in 1988.
Josh attended Mooresville High School and then graduated from Lake Norman High School in 2003. After graduating, Josh moved in with his best buddy, Ryan Oglesby, and roommates Andrew Emanuel and Grayson Berkowitz in Cornelius.
Josh was dedicated to his security work at Boardwalk Billy's-UNCC for 11 years. He was known to many as Big Josh, Johnny Utah, Bubba, or Bubba Booie. Josh was a protector, a confidante, an ear, a shoulder and a friend to anyone he came into contact with and was adored for his big bear hugs and gentle soul. Josh loved football, which led him to meeting Steve Mullally in middle school. Steve quickly became and remains his best friend. Josh also enjoyed video gaming, heavy metal music, movies, and Pokemon Go.
A devoted friend to everyone he encountered, he leaves behind his adored mother, Bonnie "Janine" Wilson, whom he loved most of all. He is also survived by his father, Richard William Smith; uncles, Rick L. Wilson (Suzanne), Scott D. Wilson (Teresita), John Wilson (Suzy), and Mark Wilson; and step-brothers, Seth and Ethan Smith.
The family will receive friends on Saturday, May 22, from 11 a.m. to 1 p.m. at Cavin-Cook Funeral Home. Funeral services will be held at 4 p.m. on Sunday, May 23, at Heritage House of Cavin-Cook Funeral Home. Burial will follow the service at Glenwood Memorial Park.
For those who are unable to attend the service, you may go to the following link for the live stream: https://www.youtube.com/channel/UC864hAs96dTRLVVL1la0Qlw/videos?view=2&flow=list
For those who are unable to attend the graveside, you may go to the following link for the live stream https://www.facebook.com/CavinCookFuneralHomeServices/
In lieu of flowers, donations can be made to Cavin-Cook Funeral Home to help with the funeral expenses, PO Box 977, Mooresville, NC 28115 or 704-664-3363 to pay by phone.
Cavin-Cook Funeral Home & Crematory, Mooresville, is serving Josh's family. Condolences may be made to the family at www.cavin-cook.com.