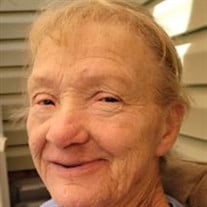 Judith Grace Marvin Teeter, who affectionately known as Judy, entered into eternal rest on September 19, 2021, at the age of 72 after a long battle with chronic illnesses. She was born on August 21, 1949, to the late Kenneth C. Marvin I and Grace J. Brooks in Canandaigua, N.Y.
She is survived by her husband of 51 years, Daniel Maurice Teeter of Statesville, N.C., and two daughters, Brandy Teeter also of Statesville and Dena Teeter McFadden (Phillip) of Winston-Salem, N.C., a foster son, Daniel Hugaboon of New York, four grandchildren; Briana Miller (Matt) of Sherburne, N.Y., Dorielle Hugaboon of Long Lake, N.Y., and Angela and Shayna McFadden, both of Winston-Salem, N.C. Also surviving are one brother, Kenneth (Debra) C. Marvin II of Forida; five sisters, Vivian Moon of Georgia, Barbara (Robert) Truax of North Carolina, Carol (Kevin) Walker of Jacksonville, Fla., Laura Lambden of Vancouver, Wash., and Delores Brunke of Salisbury, Md., and numerous nieces and nephews.
She was preceded in death by her father, Kenneth C. Marvin I, her mother, Grace J. Brooks, two brothers, Richard Newton and Thomas Newton, and one sister Maribeth Stone.
In honor of the many hours Judy spent celebrating with and providing service to individuals with special abilities, please make a donation to your local Special Olympics chapter.
Nicholson Funeral Home has the honor of serving the family.