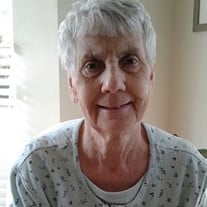 Judith "Judy" Lee Jennings Polson, 82, of Mooresville, N.C., went home to be with the Lord on Friday, July 16, 2021.
She was born on December 6, 1938, in Kansas City, Kan., to the late Forest Woodrow and Constance Clara Nolte Jennings.
Judy attended West Corinth Baptist Church. She was a member of First Christian Church in Odessa, Mo. She was a volunteer at Lake Norman Regional Medical Center and enjoyed motorsports and football. She was a huge fan of the Kansas City Chiefs.
Judy loved her family and will be greatly missed by all who knew her.
In addition to her parents, she was preceded in death by her husbands, Roy Lee Morris and Roger Polson.
She is survived by her daughters, Cheryl Schumacher and Valerie Bowen (Howard); grandson, Kristoffer Bowen (Amanda); and great grandchildren, Parker Grace Bowen and Hattie Ann Bowen.
A memorial service will be held at 4 p.m. on Tuesday, July 20, 2021, at West Corinth Baptist Church with Rev. Robert Suttles officiating. The family will receive friends following the service at the church. For those who are unable to attend the service, you may go to the following link for the live stream https://youtube.com/channel/UCHBsFnxD7rV0ziq-U7fnMLQ
In lieu of flowers, memorials may be made to American Cancer Society, 1901 Brunswick Avenue, #100 Charlotte, NC 28207.
Cavin-Cook Funeral Home & Crematory, Mooresville, is serving the family. Condolences may be made to the family at www.cavin-cook.com.