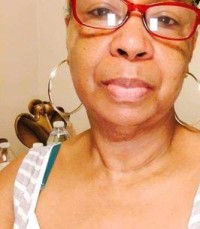 Judy Ann Carruth Hunter, 68, of Statesville, N.C., was born in Iredell County on Thursday, June 4, 1953. She departed this life on Wednesday, December 15, 2021. She was the daughter of the late J.C. and Virginia Mae Woods Carruth. She was preceded in death by a son, Thomas Richard Hunter Jr.; sisters, Pamela Bellamy, Carolyn Carruth Turner and Tracy Carruth; and a brother, Michael Carruth.
She was a graduate of Davie High School in Mocksville, N.C., and furthered her studies at Florida Institute for Bible Studies. Prior to her death she was employed in the health care field. Judy was a very hard worker and had a love and passion for many things such as cooking, music, traveling, and she was also an excellent professional sewer.
She leaves to cherish the memory of her life a son, Shawn Cory (Shonna) Carruth of Kernersville, N.C.; two daughters, Stacy Carruth of Statesville and Taylor Ann Hunter of Winston-Salem, N.C.; four brothers, James Carruth, Daniel Carruth, Ricky Summers and Russell Carruth, all of Statesville; two sisters, Virginia Carruth Roberts and Sandra Carruth; 13 grandchildren; several great grandchildren; and a host of nieces, nephews, cousins, other relatives and friends.
Celebration of life services will be conducted on Monday, December 20, 2021, at 2 p.m. at the Mary B. Bigham Memorial Chapel, Rutledge & Bigham Funeral Home. Dr. C. Randy Minor will officiate. Members of the family will receive friends from 1:30 to 2 p.m. at the funeral home.
Rutledge & Bigham Funeral Home is serving the family.