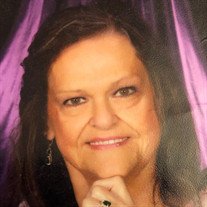 Judy Marlene Fink Taylor, 70, of Statesville, N.C., passed away Friday, April 9, 2021, at Gordon Hospice in Statesville. She was born May 5, 1950, in Iredell County to the late Billy McRay Fink and Mable Kathleen Barnette Fink.
Judy worked in Food Service with Bi-Lo and retired from Food Lion.
In addition to her parents Judy was preceded in death by her husband Frank Taylor.
She is survived a son, Jamie McRay Ball; and special friend, Christy; a daughter, Genia Sprinkle and husband Jason, all of Statesville; two grandchildren, Katlynn Marie and Averee Nicole; and special friends Troy Hackney, Franklin Georgia, and Brooke and Matthew Sprinkle.
Graveside services will be conducted at Iredell Memorial Gardens with Rev. James Bumgardner and Pastor Ike Branham. Services are Incomplete.
Chapman Funeral Home is serving the Judy Taylor Family.