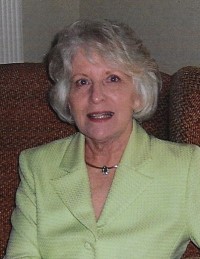 Mrs. Julia Ann Redmond Bolin, 79, of Statesville, N.C., passed away unexpectedly on Monday, December 28, 2020, at Wake Forest Baptist Medical Center.
Mrs. Bolin was born March 11, 1941, in Iredell County and was the daughter of the late Alfred "Speck" Redmond and Annie Gryder Redmond. She was a graduate of Statesville Senior High School, and in 1960 she married the love of her life, Dwight Lee Bolin, who survives. She was retired from First Union National Bank after 35 years as an area operations manager and Vice President. She was a former President of the Civitan's Club in Statesville. She loved working with her customers, and many became lifelong friends. She loved people and never met a stranger!
Grandma/Mawmaw had special times that she shared with each of her grandchildren. It may have been sharing life stories or singing her made-up songs to make you smile. After retirement she took great pride in helping Skylar and Landon with schoolwork and homework. A life that was always giving, no matter how busy she was or what was going on around her, she stopped and made the time for you. Her advice and wisdom that she shared with us will remain in our hearts and minds forever. She loved working in the yard with her roses, helping her grandchildren with their horses and even with Dwight and their sons cutting trees and dragging logs. She loved to be outside loved life and loved the Lord.
Julia loved all her family dearly. A birthday never went by without the first phone call being from Mom and Dad singing happy birthday to you — a true gift above all others and something that you would always remember. Mom and Dad were always together and the love they shared — there are not enough words to describe how wonderful it was to see and feel when you were around them. It was a love that lasted a lifetime. Her smile, laughter and warm hugs will truly be missed, but will never be forgotten.
In addition to her husband of 60 years, she is survived by two sons, Charles Todd "Chuck" Bolin (Chrissy) of Statesville and Scott Bolin (Danette) of Statesville; four grandchildren, Christopher T. Bolin (Jackie), Courtney Barbee (Lee), Skylar Bolin, and Landon Bolin; four great grandchildren, Caleb, Ashlynn, Luna, and Braxton; one brother-in-law, Pierce Bolin (Betty); and one sister-in-law, Mary Lois Hollingsworth.
Graveside funeral services will be held at 2 p.m. on Saturday, January 2, 2020, at Oakwood Cemetery with Rev. Johnny Bolin and Rev. Brian Burgess officiating.
Honorary Pallbearers are Landon Bolin, Caleb Kiser, Chris Snow, Johnny Martin, and Billy Martin.
Pallbearers are Jared Lentz, Tommy Clark, Danny Lippard, Shane Thompson, BI Isenhour, and Mike Voelske.
Online condolences may be made to the family at www.troutmanfuneralhome.com
Troutman Funeral Home is serving the family.