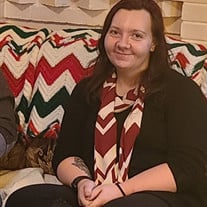 Kaila Keileen Christian, 24, of Statesville, N.C., passed away on December 18, 2021, from injuries sustained in a car accident. She was born on January 24, 1997, in Mount Airy, N.C., to Roger and Robin Greene Christian.
Kaila graduated from South Iredell High School in 2015. She was a shift manager with Wendy's restaurant. Kaila enjoyed fishing, drag racing, and especially loved her dog, Smokie. She loved her family and enjoyed any time she could spend with them. She was a great friend to everyone. Kaila was deeply loved by her family and will be greatly missed.
Kaila was preceded in death by a sister, Emilie Grace Christian; paternal grandmother, Joyce Christian; and maternal grandfather, Robert Greene.
In addition to Kaila's parents, she is survived by her brother, Joshua Christian; maternal grandmother, Janice Greene; paternal grandfather, Roger Lee Chrisitan; and numerous aunts, uncles and cousins.
A visitation will be held on Tuesday, December 28, 2021, from 10 a.m. until 12 noon at Cavin-Cook Funeral Home & Crematory, Mooresville, N.C. A graveside service will follow at Skyline Memory Gardens, Mount Airy, N.C., at 2 p.m. with Pastor Chris White officiating.
In lieu of flowers, memorial contributions can be made to Cavin-Cook Funeral Home, P.O. Box 977, Mooresville, NC 28115, (704) 664-3363 to help with funeral expenses.
Cavin-Cook Funeral Home & Crematory, Mooresville, is serving the Christian family. Condolences may be made to the family at www.cavin-cook.com.