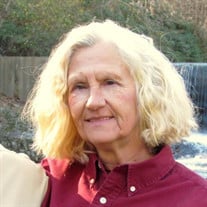 Katherine Elaine "Kitty" Menscer Kennedy, 71, of Love Valley, N.C., died Monday, July 5. 2021, at her home surrounded by her family. Born June 10, 1950, in Iredell County, she was a daughter of the late James Menscer and Velma Irene Goodman Menscer.
She was a member of Love Valley Presbyterian Church. She enjoyed gardening and loved traveling. She was a retired corrections officer for the Department of Corrections.
Kitty was preceded in death by two brothers, Lloyd Menscer and Jim Menscer; and two sisters, Linda Menscer and Susie Sloan (Newland); and grandson, Quince Tilley.
Survivors include her husband, Harold Jay Kennedy; son, Anthony Wayne Kennedy (Ana); God son, Dale Tilley (Sandy); brother, John Menscer (Peggy); sister, Teresa Menscer Haupt (Paul Hallman); sisters-in-law, Ann Burkland (Harold) and Carol Eichman (Emil); and grandchildren, Gustavo Arce, Christy Kennedy, Jake and Jace Menscer, and Matthew Tilley.
Services celebrating Kitty's life will be Sunday, July 18, 2021, at 3 p.m. at Love Valley Presbyterian Church with Pastor Bill Bates officiating.
Condolences may be sent online to the family to www.nicholsonfunerals.com. Memorials may be given to the American Cancer Society, 1901 Brunswick Avenue, Suite 100, Charlotte, NC 28207.
Nicholson Funeral Home is entrusted with the arrangements.