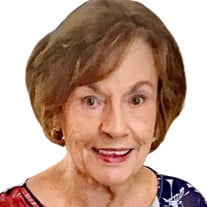 Kathryn "Kathy" Hughes Chaffins of Mooresville, N.C., passed away peacefully on December 8, 2021, at the S Mitchell Mack Hospice House. She was 89 years old and was born into a coal-mining family in Salyersville, Ky., on August 2, 1932. Kathy is the daughter of the late William Nicholas Hughes and Neva Blair Hughes (Blair). She was a caring sister to Charles Hughes and Dolly Rumple (Hughes); the beloved mother and best friend of Dena Myers (Chaffins) and the late Ronald Keith Chaffins; the loving and irreplaceable "Nana" to: Eric Myers (Aneliese), Chris Myers (Cara), Garan Myers (Robin), Desmond Myers (Megan), and Liza Livers (Vancy); and to her twelve Great-Grandchildren, and very special niece and friend, Christy Frye.
Kathy was preceded in death by her husband, Kyle Eugene Chaffins; her son, Ronald Keith Chaffins; her brothers, Robert Hughes, Woodrow Hughes, William Hughes, Wayne Hughes, John Hughes, Granville Hughes, Elder Hughes, and Ray Hughes; and her son-in-law, Harry Myers III.
She married the late SSGT Kyle Eugene Chaffins on September 20, 1952, and was a dutiful military wife, traveling with him and living on many Air Force bases. She worked in commissaries on each base and worked with him on each assignment. She remained devoted to him during his 16 years in service until his passing on December 26, 1966. Kathy was a self-employed hairdresser for over 40 years. She found immense joy in her work and especially in her network of fellow hairdressers with whom she shared many precious memories over the years, including an annual beach retreat. She enjoyed her work family and clients; she often called her female clients "her ladies" and could always be counted on to notice someone's hair, comment on it or "fix" it for them.
Kathy was an incredibly generous person. She never bought an item for herself unless she had already purchased two items for someone else. She was a member of Bethpage Methodist Church in Kannapolis, N.C., where she volunteered her time as a Girl Scout and VBS Leader. She was loved by her brother and sister and was the glue that held them together. She spent time looking after them, visiting, taking food, and lending a hand. Her hobbies included ceramic arts, crocheting, growing flowers, shopping, walking with friends, day trips with social groups, a good lunch at local restaurants with friends and family, and making Christmas candy, a love she inherited from her father, and was always counted on to bring her favorite cheese ball to family gatherings. She always had a jar full of Little Debbie sweets at her home for the grandchildren. A true coal miner's daughter, she loved music and came from a very musical family. She especially liked country music of the 1950s and 60s — Loretta Lynn, Roger Miller and Dolly Parton to name — a few as well as 1980s soft rock.
The surviving family will hold a graveside celebration on December 16 at 10 a.m. conducted by Rev. Jan Brittian at the Historic Salisbury National Cemetery, 202 Government Road Salisbury, NC 28144.
Send Memorials/Donations instead of flowers to: S. Mitchell Mack Hospice House, Hospice of Iredell County, 2347 Simonton Road, Statesville, NC 28625 or Finn's Fighters at www.finnsfighters.org.
Cavin-Cook Funeral Home and Crematory, Mooresville, is serving the Chaffins family. Condolences may be sent to the family at www.cavin-cook.com.