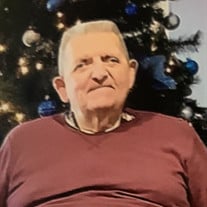 Larry Ray Alley Sr. of Roanoke, Va., and formerly of Mooresville, N.C., went to be with his Lord and Savior on Saturday, June 5, 2021, at the Virginia Veterans Care Center in Salem, Va., where he had lived for almost two years. He was born April 7, 1947, in Mooresville, son of the late Ray H. Alley and Marjorie
D Alley.
Larry was a veteran of the United States Navy. He was formerly employed in Security at Ingersoll-Rand in Davidson, N.C., and his last job was Captain of Security at NGK Ceramics in Mooresville. He was a member of Valley Church, Roanoke, Va., and a former member of Boulevard Chapel, Kannapolis, N.C.
Larry loved hunting and fishing and went often with his son and his family. The guard house site at his work was located in a wooded area and he loved watching all the wildlife around. He looked forward every year to deer season whether he got a deer or not.
At Christmas time, he always looked forward to the steaks and trimmings that his nephew deliciously prepared. Larry was usually the last one to finish eating but enjoyed every bite.
He was remembered fondly at the Virginia Veterans Care Center as someone they all loved and enjoyed being around. There was no visitation due to Covid for the last 14 months or so. The VVCC made it possible for Larry to keep connected to his family by Facetime. He had a standing appointment every other week. It was wonderful to be able to interact in real time and so appreciated.
Larry was preceded in death by his wife, Dianna Lynn Allison Alley; son, Larry Ray Alley Jr.; father, Ray Hamilton Alley; and mother, Marjorie Elizabeth Deal Alley.
He is survived by his sister, Frankie Alley Blevins (Rodney); brother, Dennis Eugene Alley (Ann); granddaughter, Savannah Diane Alley; and numerous nieces, nephews, great nieces and great nephews.
The family would like to extend their sincere appreciation to all the Virginia Veterans Care Center nurses, physicians, and staff, his beloved church family, friends, and Cavin Cook Funeral Home, for their prayers, compassionate and supportive care that was provided. Your kindness will never be forgotten.
A graveside service will be held at 2 p.m. on Saturday, June 12, 2021, at Glenwood Memorial Park, Mooresville. In lieu of flowers, memorials may be made to the WoundedWarriorProject.org.
Cavin-Cook Funeral Home, Mooresville, N.C., is serving the family of Mr. Alley. Condolences may be made to the Alley family at www.cavin-cook.com.