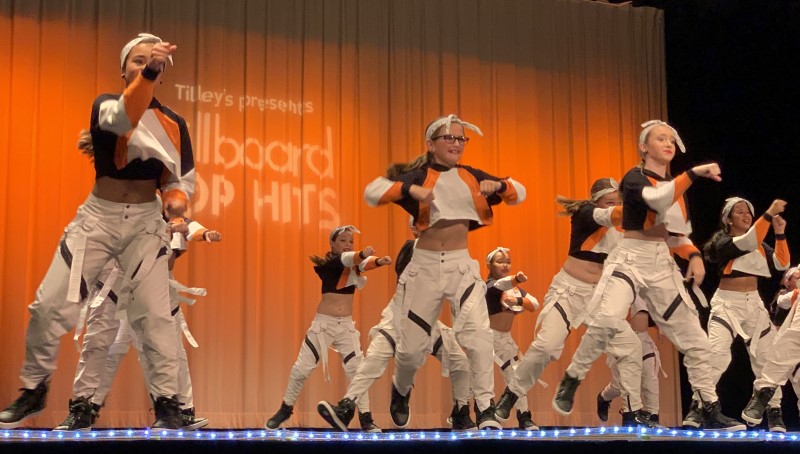 BY BRANDY TEMPLETON
Tilley's Dance Academy held its 34th annual dance recital on Saturday and Sunday. This year's theme was "Billboard Top Hits," featured music from a variety of artists, including Michael Jackson, Madonna, Elton John and The Pointer Sisters.
Tilley's 400 dancers, from preschool to adults, performed a total of 51 jazz, tap, pointe, hip hop, lyrical, musical theatre, and acro routines during the two-day event.
Owner Denise Tilley Levan spoke about the challenges of the 2020-2021 year.
"This was unchartered change they all had to embrace," she said. "We had to make safety our first priority."
Levan said she was glad to get back to normal and not being forced to hold the recital in a parking lot.
During the performances, Tilley's dance instructors, dance moms, helpers, and dancers were recognized.
Instructors Amy Davidson Brookshire, Lauren Dixon, and Madison Deal were thanked by Levan for their dedication to helping the students.
South Iredell High junior Layla Hunter was awarded the Robinette Tilley "Dance for Me" scholarship for the year.
South Iredell High senior Savannah Millsaps and West Iredell High senior Ally Lazenby were recognized for their many years with Tilley's. Both girls were presented with big portrait collages to take with them to Appalachian State.
Levan teared up as she talked about her parents Don and Robinette Tilley.
"My parents said to be successful for what you do in life, you have to have a passion for it, you have to love what you do, and you have to always keep working at it," she said.
After a touching performance of "We are the World," the senior and junior dance companies performed Madonna's "Like a Prayer" and the entire cast came out to take their bows.
Photo Gallery