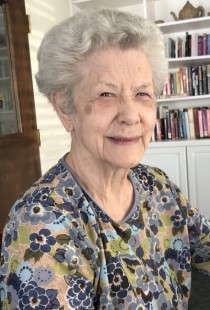 Louise Ferguson Tesnow, 87, of Troutman, N.C., passed away Monday, February 1, 2021, at the Gordon Hospice House.
Mrs. Tesnow was born March 10, 1933, in Flag Pond, Rural, Tenn., and was the daughter of the late Ernest and Dallie Ferguson. A native of Madison County, N.C., she was a 1951 graduate of Mars Hill High School and completed Business Administrative courses at Brevard College and Blue Ridge Technical Community College of North Carolina.
Louise was married in 1957 for 55 years to her late husband, George Tesnow, in Asheville, N.C., at McComick Field, home of the Asheville Tourist Baseball Team. She settled in Brevard, N.C., and strived at her accomplishments and dedication in her position as Administrative Secretary for the Transylvania Community Hospital. She retired from the Transylvania Community Hospital with 21 years of service, earning many rewards and certificates for her memorable service.
She is survived by her three sons, Terry and wife Kellie of Greensboro, N.C., Christopher and wife Stephanie of Rosman, N.C., and Greg and wife Manee of Troutman; two sisters, Lynna English of Inman, S.C., and Dianne Randolph of Mars Hill; five grandchildren; and one great grandchild.
Graveside funeral services will be held at 1 p.m. on Thursday, February 4, 2021, at Blue Ridge Gardens of Memory located at 994 Hendersonville Highway, Pisgah Forest, NC 28768.
In lieu of flowers, memorials may be made to a charity of the donor's choice and online condolences may be made to the family at www.troutmanfuneralhome.com.
Troutman Funeral Home is serving the family.