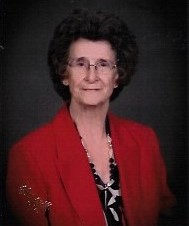 Lucille Mathis Pharr Manuel, 95, of Olin, N.C., entered into the gates of Heaven on Sunday, July 11, 2021, at Gordon Hospice House.
She was born on February 13, 1926, in Yadkin County to the late Talmage Mathis and Nora Jarvis Mathis. Lucille graduated from Union Grove High School and retired from Statesville Sportswear. She was a hard worker and loved her family. She enjoyed her garden and spending time with her children and grandchildren. Lucille was a dedicated caregiver for her mother, who lived to be 103, as well as for her late husband. She will be greatly missed by all.
In addition to her parents, Lucille was preceded in death by her first husband, Maynard Pharr; second husband, Duke Manuel; step-daughter, Mary Jane Anderson; four sisters, Inez Dwiggins, Sybil Hill, Virginia Mathis, and Sudie Martin, and three brothers, Dewitt Mathis, Bruce Mathis and Hobert Mathis.
Lucille is survived by two daughters, Paula P. Steele (Billy) and Cheryl P. Robertson (Wayne); two step-children, Roger Manuel (Kathy) and Linda Faye Cass (Gary); six grandchildren, Rodney Robertson, Kevin Robertson, Stephen Robertson, Kimberly Shoemaker, Jeff Steele, and Heather Ainsley; fand ive step-grandchildren, Jeffery Manuel, Wesley Manuel, Jerry Cass, Mary Ann Pettry and Jonathan Anderson. Also surviving are twelve great grandchildren, ten step great-grandchildren and one great-great grandchild.
A funeral service will be held 10 a.m. on Wednesday, July 14, at Mt. Vernon Baptist Church in Olin, N.C., with burial to follow at the church cemetery with Pastor David Childress officiating. The family will visit with friends following the burial.
In lieu of flowers memorials can be made to Mt. Vernon Baptist Church at 145 Mount Vernon Church Rd, Olin, NC 28660.
Troutman Funeral Home is serving the family.