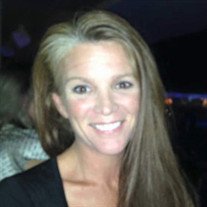 Lynda Susan Meadows, 49, passed in peace on Wednesday, March 10, 2021, at Gordon Hospice House in Statesville, N.C. Susan was born on September 9, 1971, in Warner Robins, Ga.
She received a Bachelor's Degree in Accounting from the University of North Carolina at Charlotte and worked as an accountant and forecaster for Ingersoll-Rand in Davidson, N.C., for more than 20 years.
Susan was an avid reader, she loved statistics and facts, and she never backed down from a challenging debate. Her determination and tenacity made her a very successful professional.
Susan loved music, concerts, and baseball, and she enjoyed watching Tom Brady no matter what team he played for. She had appreciation for art and creativity. She enjoyed many forms of crafts over the years.
Susan was a precious daughter, dedicated mother and loyal friend. She will be sorely missed by her family and friends.
She is survived by her two sons, Sachiel and Luke; her loving parents, Russ and Linda Bowman; and her two brothers, T.J and Jon.
A private celebration of life will be held Saturday, March 20, 2021.
In lieu of flowers and in loving care of Susan, the family request that donations be made to the Gordon Hospice House in Statesville, N.C., at http://www.hoic.org/donate.asp.
Cavin-Cook Funeral Home & Crematory, Mooresville, is serving the family. Condolences may be made to the family at www.cavin-cook.com.