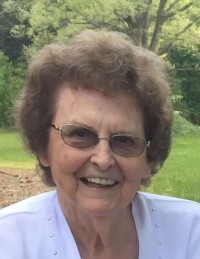 Martha Jane Branon White, 91, passed away November 16, 2021. She was born July 29, 1930, in Yadkin County, N.C., to the late Fred William Branon and Pearl Hinson Branon. She married G.D. White Jr. on July 31, 1948, and they had 68 wonderful years together.
She was a member of Mount Vernon Baptist Church of Olin, where she previously taught Sunday School and Vacation Bible School. She loved children and enjoyed seeing them grow in faith and love.
She worked as a secretary at North Iredell High School and at the Statesville Auto Auction.
She enjoyed working in her flowers and especially in her rose garden. She enjoyed making arrangements of roses from her rose garden. She made many arrangements of roses for the sanctuary of the church.
She is survived by her son, Dr. Andy White (Jennifer), and granddaughter, Meredith White Collins (Andrew), and four great-grandchildren, Paisley, William, Sam, and Cooper Collins. Also surviving are wo nieces, Mary Robertson (Ronnie) and Martha Holden (Scott), and nephew, Philip Branon; sister-in-law, Frances Jean Branon; and a very close cousin, Jane Waddell (James).
In addition to her husband and parents, she was preceded in death by her brother, Harold Branon.
Funeral services will be held at 2 p.m. on Friday, November 19, 2021, at Mount Vernon Baptist Church with Pastor David Childress and Pastor Byron Allison officiating. Burial will follow in the church cemetery. The family will receive friends on Friday from 1 to 2 p.m. at the church and also following the committal service.
We would like to thank the staff of Sherrie's In Home Care, especially Debbie Earnest, Jean Redmond and Cindy Raff, for their love and care. We would also like the thank The Gardens of Statesville for their wonderful care.
Memorial contributions may be made to the Gideons and Mount Vernon Baptist Church choir.
Troutman Funeral Home is serving the family.