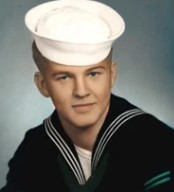 Martin Andrew Donnelly, 83, of Mooresville, N.C., passed away on January 4, 2021. He was born on January 26, 1937, in Rockville Centre, N.Y., to Muriel C (Dunbar) Donnelly and Martin A. A. Donnelly II.
On May 10, 1958, he married his high school sweetheart, Yvonne B. Deveau in Rosedale, N.Y. In June of 1954, he joined the Navy and after various schools he was assigned to the U.S.S. Kearsarge CVA 33 anchored in San Diego, Calif. He served on the Kearsarge until he was separated with an Honorable Discharge in 1958. While serving he received the National Defense Service Medal and Good Conduct Medal.
Marty and Yvonne spent much of their married life living on Long Island, where he was a member of the West Babylon Fire Department and joined the Equitable Life Insurance where he worked until he retired. Marty and Yvonne left Long Island and took up residency in Andes, N.Y., where he continued his business and was Town Supervisor of Andes for 18 years. While there, he did wonderful things for Andes. In July 2019 they moved down to North Carolina, where they spent time with their son Marty and daughter-in-law Audrey before moving into Atria due to Yvonne's declining health.
He is survived by his lovely wife of 61 years, Yvonne of Mooresville, N.C.; his sons Marty (Audrey) of China Grove, N.C., Michael (Marianne) of Smithtown, N.Y., and Steve of Wading River, N.Y.; his daughters Margaret of Massapequa, N.Y., and Ellen (Keith) Mable of Brewerton, N.Y.; as well as by his grandchildren, Kelly, Sean, Timothy, Megan, Kaitlyn, Kelsey, Kristin, Allison and Jack; and his two great-grandchildren.
A graveside service with full military honors will be held at 11 a.m. on Wednesday, January 13, at Salisbury National Cemetery with Rev. Mark Lawlor officiating.
In lieu of flowers, memorials may be made to Alzheimer's Association – Western Carolina Chapter, 4600 Park Road, Suite 250, Charlotte, NC 28209.
Cavin-Cook Funeral Home & Crematory, Mooresville, is serving the Donnelly family. Condolences may be made to the family at www.cavin-cook.com.