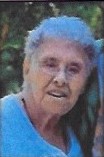 Mary "Helen" Levan Teague, 84, of Statesville, N.C., received her heavenly home Tuesday, April 6, 2021. She was born in Iredell County to the late Henry W. Levan and Lucille Shoemaker Levan.
In addition to her parents, she was preceded in death by her sisters, Marilyn Levan, Betty Steelman, and Ruby Hartline, and her brother, Floyd Levan.
She is survived by her son, Richard Teague (Kim); daughter, Debra Teague; three grandsons, Richard Teague Jr., Casey Adams, and Colby Teague; and great grandchildren, Henry Teague and Hayden Teague. Helen is also survived by her sister, Carolyn Lamberth (Lawrence), as well as numerous nieces and nephews.
Helen worked in textiles and manufacturing until her retirement. She loved and enjoyed her family and friends. Helen loved the Lord and loved being able to help others. She enjoyed learning to quilt, her pets and her flowers.
A memorial service will be held on Sunday, April 11, 2021, at 2 p.m. at New Bethany Baptist Church with burial to follow.
In lieu of flowers memorials may be made to Hospice and Palliative Care of Iredell County at 2347 Simonton Rd, Statesville, NC 28625.
Troutman Funeral Home is serving the family.