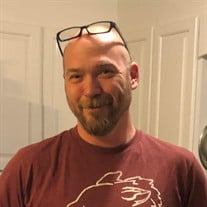 Matthew "Matt" Thomas Ellis, 41, of Statesville, N.C., passed away unexpectedly on Wednesday, July 14, 2021.
Born on June 17, 1980, in Spartanburg, S.C., he is the son of Donald Thomas Ellis and Teresa Klim Ellis of Conover, N.C./Holden Beach, N.C., and husband of Ellen DeLong Ellis. Matt was a 1998 graduate of Newton-Conover High School and also attended Catawba Valley Community College and Appalachian State University.
Matt was a loving son, father, husband, brother, uncle, nephew, and friend to so many. He was an incredibly kind, thoughtful, and outgoing person who never met a stranger. He lit up any room he entered.
In addition to his wife and parents, Matt is survived by two children, Anne Elise "Boogie" Ellis and Ian Matthew "Dude" Ellis; their mother, Traci Raymes Ellis; sisters Shannon Bowman (Aaron) of Greensboro and Marianna Carr (Justin) of Kernersville; nephew Evan Bowman; father- and mother in-law, Charles "Chuck" DeLong III and Susan Post DeLong of Akron, Ohio; sister-in-law Katey DeLong (Joe) of Cuyahoga Falls, Ohio; and beloved dergs Charlotte and Raleigh.
Matt was a very proud father of his two amazing, smart, and hilarious kids. He loved spending time with them, and there was always some wacky antics underway. He enjoyed giving them a hard time about the silliest things and would banter back and forth with them for hours. They are his greatest achievement.
Matt also enjoyed going on adventures with his wife Ellen, including taking the camper to the mountains. They shared a great love and appreciation of one another. He was a big kid at heart and loved video games, comic movies, Star Wars, The Simpsons, and of course Baby Yoda. A true fan of the Duke Blue Devils in every way, Matt was unbelievably smart. He never forgot anything and would remind you about it at any opportune time. He could remember a quote from any movie, show, commercial, song, etc. He worked at Warehouse Design of Thomasville, where he loved what he did and his work family. Matt will be forever in our hearts and missed by many.
A celebration will be held to honor Matt's life in the near future. Details to be announced. Please send any photos, stories, fun memories to include at his celebration to mattellismemories@gmail.com.
Nicholson Funeral Home is serving the family.