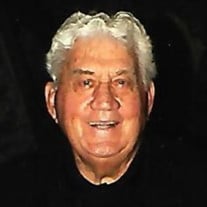 Mr. Max Douglas Davidson, 93, of Statesville, N.C., died Tuesday, November 2, 2021, in an automobile accident. Born in Iredell County on May 25, 1928, he was a son of the late Roy Melmouth Davidson and Berta Candace Roseman Davidson.
In addition to his parents, he was preceded in death by a son, Christopher (Chris) Alan Davidson; a granddaughter, Erin Nicole Davidson; and siblings, Joseph Alston "Aus" Davidson, Roy Melmouth "Pete" Davidson, Rosemond "Rosie" Davidson, James Edward "Jim" Davidson, Carolyn Sue Davidson and Mildred Ann "Mittie" Davidson Campbell.
Max was a retired food broker and enjoyed golf and family. He was a veteran of the U. S. Army.
Max played professional baseball. He started with the Statesville Owls (1947-1948). During 1949-1950, he was in the New York Giants organization with Reno Silver Sox, Erie Sailors, Fort Smith Giants, and Knoxville Smokies. In 1953 he played for the Augusta Rams of the South Atlantic League and the Danville Leafs. He finished his career with the Knoxville Smokies in 1954. During his career he played in 623 games, had 57 HR, 162 RBI, 26 SB and .269 BA.
Survivors include his wife, the former Betty Lambert; two sons, Max Douglas "Doug" Davidson Jr. (Cindy) and John Mark Davidson (Linda), along with a daughter, Pamela Lee Davidson. Additional survivors include two brothers, Frank Dale Davidson (Sue) and Henry Paul "Bob" Davidson; two sisters, Dorothy "Dottie" Davidson LaClair and Wanda Helen Davidson Isenhour (Eugene). Also surviving are grandchildren, Jennifer Lynn Davidson-Holzworth (Michael), David Christopher Davidson, John-Barron Foster Davidson, Lauren Elizabeth Davidson Raker (Bill), Taylor Lee Davidson Jackson (Dylan) and Logan Douglas Davidson (Maddie), and great grandchildren, Douglas Alexander Holzworth and William "Will" Grant Raker V. Additional survivors include a daughter-In-law, Sandra Lynn Davidson; a step daughter, Sonja Shannon (Pat); and a step granddaughter, Ashley Plyler.
Funeral services are scheduled for 1 p.m. on Friday, November 12, 2021, at Union Chapel Baptist Church with Rev. William Wease and Rev. Robin Miller officiating. The family will visit with friends following the service. Interment with full military rites will be at 9 a.m. on Wednesday, November 17, 2021, at the National Cemetery in Salisbury.
Condolences may be sent online to the family to www.nicholsonfunerals.com. In lieu of flowers, memorials may be given to Union Chapel Baptist Church, 213 Gays Chapel Road, Statesville, NC 28677.
Nicholson Funeral Homes is entrusted with the arrangements