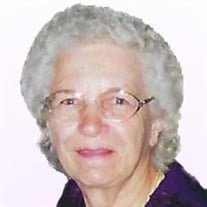 Mildred Catherine Vaughan, age 89, of Union Grove, N.C., passed away on Monday, August 30, 2021, at Wake Forest Baptist Medical Center in Winston-Salem, N.C. Born on May 27, 1932, in Summerhill, Pa., she was the daughter of the late Andrew Valentine Bishop and Bertha Mae Bodenschatz Bishop.
Mildred was a very independent and active woman who was full of life. She had a passion for gardening and loved her pets. Mildred was happy and proud of the home she made in Union Grove.
In addition to her parents, Andrew and Bertha Mae Bishop, she was preceded in death by her husband, William Bernard Joseph Vaughan; sister, Rosemary Bishop; brothers, John R. Bishop (Lois), Ralph T. Bishop (Rosemary), Louis F. Bishop, Robert A. Bishop (Emily), and Paul E. Bishop.
Those left to cherish her memory include her sons, Christopher Vaughan and Stephen Vaughan and his wife Beth, and grandson, Justin Vaughan; her sister, Joan G. Crum Muir (Leroy); and nieces and nephews.
The family will receive friends from 11 a.m. to 1 p.m. on Friday, September 10, 2021, at Askew-Houser Funeral Home, 300 North Julian Street, Ebensburg, Pa. A graveside service will follow at 2 p.m. at St. Mary's Cemetery at 1640 New Germany Road, New Germany, Pa.
Online condolences may be made to the family at www.nicholsonfunerals.com and at www.askewhouser.com.
Nicholson Funeral Home in Statesville, N.C., and Askew-Houser Funeral home in Ebensburg, Pa., are serving the family of Mrs. Vaughan.