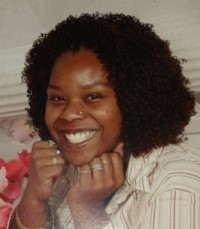 Natasha Camille Reid, 37, of 315 Brevard Street, Statesville, N.C., was born in Iredell County on May 15, 1983, and was the daughter of Evonne Reid and the late Darryl "Smitty" Smith. She departed this life on Thursday, April 1, 2021, at Wake Forest Baptist Medical Center in Winston-Salem, N.C., following an extended illness.
"Tasha Thick Thighs," as she was affectionately called, was a graduate of Statesville High School and University of Pheonix, where she received a Business degree. At one time, she was employed by Tube Specialist and Freightliner. A loving mother, daughter, sister and friend, she will truly be missed.
In addition to her father, Smitty, she was preceded in death by her grandparents, Charles and Sarah J. Reid; an uncle, Charles Reid; and an aunt, Roberta Reid;
She leaves to cherish the memory of her life her mother, Evonne Reid of the home; four children, Kyjuan Reid, Johnathan Reid, Santrell Gaines and Ny'Mya Reid, all of the home; her brother, Lavandus Houston of Charlotte; her sister, Lucresha Smith of Statesville; a special friend, Stephen Heller of Statesville; her godfather, Mr. and Mrs. Toby Rell of Statesville; her nieces and nephews including Breona Smith, Calyce Smith, Labron Glaspy and Calvin Parker Jr.; several aunts and uncles including Evette Reid, James Reid, Rosemary (Marshall( McNeely, Brenda Henderson, Carolyn (Dennis) Cornelius, Sandra Borders Reid, Kenneth (Patrice) Reid, and Andy (Kim Reid, all of Statesville, Richard Reid of Kannapolis and Thomas (Minnie) Reid of Seneca, S.C.; and a host of cousins, other other relatives and friends.
Celebration of Life Services will be conducted Wednesday, April 7, 2021, at 2 p.m. at Rutledge and Bigham Funeral Home. Burial will follow in the Belmont Cemetery.
Visit the Book of Memories for Natasha at www.rutledgeandbigham.com.
Rutledge and Bigham Funeral Home is serving the family of Natasha Reid.