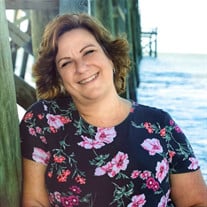 Nicole Marie McShea Anderson, 46, of Troutman, N.C., passed away on Thursday, August 5, 2021.
She is survived by her husband Damian; kids, Damian and Abby; parents, John and Laurie McShea; sisters, and Jessica and Brianna McShea.
Nicole was not religious, but believed in God and divine intervention. She got everything she wanted in this life and more. She had many close friends spanning decades of time. She loved to read, write, do yoga, cook, and care for her family. Nicole was a problem solver and hard worker. She always wanted to be a teacher, but let life take her where she needed to be to provide for her family, accepting each new job with appreciation and steadfast resolve. She was filled with ideas and friendliness in group settings, though her circle of friends remained small. Nicole was an overthinker, worrier, kind heart, never sat long, loved to socialize and play cards. She loved autumn best, flower gardening, and raking leaves, and shopping for deals and discounts.
Nicole survived bacterial meningitis in high school and stage 3 breast cancer at Duke in her 30s. She had multiple surgeries through her life and always rebounded, each one eventually wearing her down mentally and physically.
She was very proud of her kids. She was their No. 1 fan and advocate. Damian was her gentle and quiet underdog, and Abby was her spirited and sensitive overachiever. Her husband Damian loved her and supported her dreams for over twenty years through sickness and in health. They both struggled with many setbacks in life but when you look at their kids you know they did a good job. Originally from Long Island, N.Y., and a graduate of Mt. Sinai High School, Nicole started babysitting her sisters and then neighbors and then worked at McDonalds at age 16. She had a crush, a high school sweetheart, and her husband of 26 years. She worked at book stores in her youth and that was her favorite job. Nicole didn't do big things with her life, but she hopes the little things she did for others will be remembered.
A Memorial Service will be held for family and friends at 2 p.m. on Sunday, August 8, at the Anderson residence.
In lieu of flowers, memorials may be made to Cavin-Cook Funeral Home, PO Box 977, Mooresville, NC 28115 or 704-664-3363 to help with funeral expenses.
Cavin-Cook Funeral Home & Crematory, Mooresville, is serving the Anderson family. Condolences may be made to the family at www.cavin-cook.com.