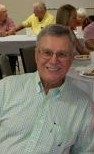 Noble "Nobby" Bloomfield Mills II, 82, of Statesville, N.C., passed away Monday, November 1, 2021 at the Gordon Hospice House.
Nobby was born September 2, 1939, in Statesville and was the son of the late Allen Lafayette "Buck" Mills Jr. and Louise Aycock Mills. He was a 1957 graduate of Statesville High School and attended N.C. State University and Mitchell College. In his younger years, he was a member of the Civil Air Patrol and enjoyed his Ham Radio. Nobby belonged to the International DX Association and the Carolina DX Association. He was a founding member of the Iredell County Amateur Radio Club and a member of the ARRL. Nobby loved contesting and was active in talking to many foreign countries.
He was a former member of the Statesville Jaycees, where he held numerous positions, and also served as President of the Carolina Dogwood Festival. In the past, he had a private pilot's license and enjoyed flying. He enjoyed our home on Lake Norman that he and Sandy built. He retired from Paola Yarns as Executive Vice President and later after getting a general contractor's license helped to develop Buffalo Creek Properties with his wife Sandy. He also volunteered at Forever Home Canine Rescue and along with Sandy, they started the website, www.ReHomeYourPets.com.
He was a member of Fellowship Baptist Church and was a devoted Gideon. On September 1, 1984, he married Sandra "Sandy" Lippard Mills, who survives, of Statesville.
In addition to his wife, Nobby is survived by three children, Hope M. Dezern (Wesley) of Olin, N.B. Mills III "Duke" of Statesville, and A.L. Mills III "Beau" (Earlene) of Statesville; grandchildren, Pete Morrison (Stephanie), Cody Morrison (Kaitlyn), Patrick Mills, Kasey Bostian (Jamie), Jessi Poole, and Jamie Wells (Stuart); great grandchildren, Connor, Sydney, Saylor, Luke Morrison, Raylan and Wyatt Mills, Maddie Bostian, Mary Jane Wells, Salem Poole, and Stella Poole; two brothers, William "Bill" A. Mills (Elizabeth) of Davidson, and Mike Mills (Brenda) of St. Petersburg, Fla.; sister-in-law, Patti Fox; brother-in-law, Larry Allen Lippard; and five nephews, William, Patrick, Thomas, Michael and Matthew Mills.
A celebration of life service will be held a 4 p.m. on Sunday, November 7, 2021, at Fellowship Baptist Church, 2306 Buffalo Shoals Road, Statesville, NC 28677.
Memorials may be made to Fellowship Baptist Church, P.O. Box 444, Troutman, NC 28166 and online condolences may be made to the family at www.troutmanfuneralhome.com.
Troutman Funeral Home is serving the family.