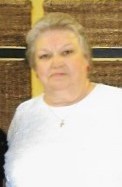 Norma Sue Cranford Taylor, 79, of Troutman, N.C., passed away on Tuesday, August 31, 2021.
Norma was born on June 9, 1942, in Surry County, N.C., to the late James Arnold Cranford and Pearlie Ross Cranford. She was a member of Fallstown Baptist Church for many years.
In addition to her parents, Norma was preceded in death by her husband, William C. Taylor; granddaughter, Jessica A. Agan; brothers, James T. Cranford and Clinton Cranford; and niece, Barbara Butcher.
Norma is survived by two nieces, Mary Hinson and Nancy Billings, step-daughter, Linda Allman (Jeff Kingsbury); and sister-in-law, Mattie Cranford.
Graveside service will be conducted at 11 a.m. on Friday, September 3, at Iredell Memorial Garden with Pastor David Troutman officiating.
Memorials can be made to Help Ministries of Troutman, P.O. Box 151, Troutman, NC 28166.
Troutman Funeral Home is serving the family.