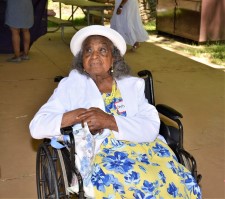 Onevva Betty Pauline Heaggans was born in Lundale, W.Va., on July 26, 1928, and was the son of the late Charlie and Emma Rankins Heaggans. She departed her earthly home on September 7, 2021, at her home surrounded by family.
She was a 1948 graduate of Unity High School and an active member of the Unity High School Alumni.
Onevva was famous for her homemade cakes that she always prepared for The Heaggans Reunion, The Church, and Boy Scouts Troup 174. She was also famous for homemade chili and best hot dog, all the way of course, hands down.
She was preceded in death by her only son, Thurston Conrad Heaggans; along with seven brothers, Shirley Heaggans, Preston Heaggans, David Heaggans, Rufus Heaggans, Walter Heaggans Sr., James Heaggans, and Charlie "Sam" Heaggans.
She was a former employee of Franks Café on Depot Hill, where she was known for her potato and pea cakes. She was a former employee of Burlington Mills. She worked numerous years and retired from Hoechst Celanese of Salisbury in 1992.
She joined Mount Tabor Presbyterian Church USA at an early age, where she has been chairman of the Kitchen Committee, best hot dog maker at the church picnics, Sunday School teacher, Presbyterian Women, Cathedral Choir and Senior Choir until her health declined. She was also a founding member of Bells Cross Road Home Extension Club and held different positions until her health declined.
She leaves behind a daughter, Lenora Heaggans Reid of Cleveland, N.C.; three grandchildren, Tara Charee Reid of the home, Kimberly Shay Reid of Mooresville, and Robert Christopher Reid of Winsor, N.C.; four great grandchildren, Shamal "Tre" Reid of Charlotte, N.C., Zoey Reid of Mooresville, N.C., Khamoni Smith, and Brooklynn Smith, both of Statesville, N.C.; one brother, Joseph (Dorothy) Heaggans of Statesville; three sisters, Gladys (George) Stevenson of Statesville, Alfreda (Robert) Blackwell of Troutman and Vernie (John) Smith of Cleveland, N.C.; one sister-in law, Melzetta Heaggans of Troutman; special godson, Randy McDowell of Troutman; a special nephew, Richard Michael Heaggans of Advance; a host of nieces, nephew, cousins, other relatives, the Mt. Tabor Presbyterian Church Family, and friends.
Celebration of Life Services will be conducted Friday, September 10, 2021, at 11 a.m. at Rutledge and Bigham Funeral Home. Reverend Timothy Porter will officiate and burial will follow in the Mt. Tabor Presbyterian Church Cemetery.
Mrs. Heaggans will remain at Rutledge and Bigham Funeral Home where members of the family will receive friends from 10:30 a.m. until 11 a.m. prior to the service, but will assemble at the residence at other times.
Visit the Book of Memories for Mrs. Heaggans at www.rutledgeandbigham.com.
Rutledge and Bigham Funeral Home is serving the Heaggans Family.