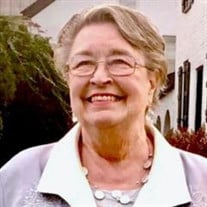 On September 15, 2020, Patricia Ann Dillon, the loving mother of three daughters, passed away at age 84. She was born on October 30, 1935, in High Point, N.C., to Helen Brown Dillon and Percy McNeer Dillon. She received her Associate Degree from Mary Washington College in Fredericksburg, Va., in 1956. She continued her education at the University of North Carolina at Chapel Hill and earned her B.A. in History in 1958. She studied for her Master's Degree in Russian History at the University of Michigan, Ann Arbor. She completed her Master's in Education in at University of North Carolina, Charlotte in 1974.
Pat was a passionate teacher for high-risk students in a vocational counseling program in Charlotte, N.C. Upon retirement Pat started her own design/build company, remodeling residences and businesses.
Pat loved deep conversations– preferably all-night– on psychology, history, religion, and family lore. She devoted much of her time with family and far-flung friends. Pat was a talented pianist and music enthusiast, who completed her opera bucket list with Wagner's entire ring cycle. An ardent champion of her home state, North Carolina, Pat vacationed regularly in its mountains and coast. An intrepid traveler in her senior years, she journeyed solo to the Arctic Circle to view the Aurora Borealis, the American West on archeological digs, across Russia on the Tran-Siberian Railway, and drove a twelve-person passenger van—the only available vehicle with automatic transmission— through the Pyrenees. Pat also ventured to Ireland, France, Greece and Turkey with her daughters. She had an unerring eye for interior and landscape design and was happy to lend her design skills to all.
Pat is survived by her three daughters, Helen Katherine Michael (Roy), Caroline Fleming Michael Osborne (John), and Dillon Michael Grenham (David), who with her five grandchildren, all live in the Washington, D.C., area. Her brother Percy (Mac) McNeer Dillon Jr. of McLeansville, N.C., died seven months after Pat and they will be interred together.
A graveside service will be held at Oakwood Cemetery on November 6, 2021, at 10 a.m. The family will visit with friends on Saturday afternoon from 1:30 to 3:30 p.m. at The Inn on Front Street.
Donations in her memory may be made to Mary Washington University's Great Lives Lecture Series, umw.edu, C. G. Jung Society of the Triangle, jungnc.com, and Holy Trinity Church Greensboro, N.C., holy-trinity.com.
Nicholson Funeral Home is serving the family of Ms. Dillon. Condolences may be sent online to the family to www.nicholsonfunerals.com.