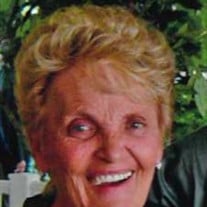 Patricia (Pat) Ellen Timmins, 76, passed away peacefully June 18, 2021. She was born November 13, 1944, in New York, New York to Patrick and Josephine Flynn.
She married the love of her life, Edward Charles Timmins, in April of 1968. He preceded her in death in 2016. Patricia, who was also known as Aunt Pat, loved people, the beach and her Scottish heritage. She was amazing with numbers, which explains her career as a bookkeeper.
Patricia is survived by Annie Flynn (her sweet dog), and her very large family. Her witty sense of humor and smile will be missed by all who knew her.
There will be a viewing in the Narthex of St Therese Catholic Church at 10 a.m. on June 30, 2021. A funeral mass will follow at 11 a.m.
Cavin-Cook Funeral Home & Crematory, Mooresville, is serving the Timmins family. Condolences may be made to the family at www.cavin-cook.com.