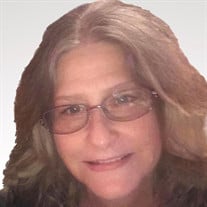 Patricia "Trish" Jones Woods, 64, of Statesville, N.C., passed away peacefully on Sunday, August 1, 2021, at Wake Forest Baptist Medical Center with her family by her side.
Trish was born in Sumner County, Tenn., and was the daughter of the late Hillery and Lee Zella Frazier Jones. She was a graduate of Roane County High School, and she received her associates degree in accounting from Appalachian State University.
On April 2, 1988, she married Michael Woods and together they shared 33 years of marriage before her passing. Trish loved the Lord with all of her heart. She was a member of First Church of The Nazarene, where she served in many capacities such as church office staff in charge of DVD/CD copy and distribution and food ministry. Trish loved her church, pastor, and church family.
Trish was a woman who loved her work. She worked as an over the road truck driver for many years and found great peace in seeing the country through the window of a truck. She loved '70's classic rock and especially The Eagles, so much so that her CB handle was "Flying Eagle." During her free time, she enjoyed planting flowers and working her flower garden and also painting figurines, especially her Angels. All that paled in comparison to the love she had for her husband, daughters, and grandchildren. Although she may be absent from earth, she is present with the Lord. She will be greatly missed.
In addition to her parents, Trish was preceded in death by a brother, Michael Rogers, and a sister, Ann Nipper.
Along with her husband Michael, she is survived by two daughters, Rebecca Prado (Brandon) of Walterboro, S.C., and Kristina Miller of Statesville. She is also survived by six grandchildren, Kasside Davlin (Lasha), Kyleigh Miller, Jacob and Isabella Helms, and Jesse and Bentley Prado. She is further survived by two brothers, Edward Jones of Statesville and Eddie Rogers (Linda) of Crawford, Tenn.
A service to celebrate the life of Trish Woods will be conducted at 2 p.m. on Saturday, August 7, at First Church of The Nazarene with Pastors Frank Turner, Rodney Bass, and Mike Bivens officiating. Burial will follow in Oakwood Cemetery. The family will speak with friends from 12 until 2 p.m. at the church.
The family would like to extend their sincerest appreciation to the staff at Wake Forest Baptist Medical Center for the love and compassion given to Trish during her time of illness.
Online condolences can be made to the family at www.nicholsonfunerals.com.
Nicholson Funeral Home is honored to serve the family of Trish Woods.