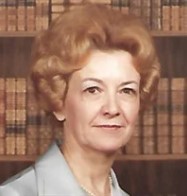 At sunrise on February 8, 2021, the spirit of Pauline Laws Eudy left this world and landed in the arms of her Lord and Savior Jesus Christ, who she loved with all her heart and served her entire life. She passed away at her home surrounded by her loving family.
Miss Pauline, as she was known in the community, was the owner and director of Lynn-Dale Daycare for 48 years, serving the children and parents of Iredell County. After retiring from the daycare, she worked as a caregiver for Home Instead another nin years and was awarded Care Giver of the Year. She was a member of Front Street Baptist Church and Director of the Nursery for 22 years.
Miss Pauline was born March 28, 1928, in Iredell County and was the daughter of the late G.M. and Mamie Laws. She graduated from Harmony High School in 1947. She married the love of her life, Thomas Lee Hill, that same year on February 15. Thomas passed away in July of 1976. She remarried Grady Eudy of Concord in 1986 and was married to him until his death in 2006.
Miss Pauline was also preceded in death by a sister, Lura Houpe; and brothers, Jack Laws, Wayne Laws, and Buster Laws.
She is survived by two sons, Carroll Hill of Statesville and Roger Hill of Jasper, Ga., and their spouses Joy Hill of Statesville and Beverly Hill of Jasper, Ga. She is also survived by five grandchildren, Justin Hill, Jacob Hill and Jordan Hill of Statesville and Christina Collings (Rory) of Woodstock, Ga., and Logan Hill (Megan) of Jasper, Ga. She had seven great-grandchildren, Anne Ellery Hill and Liam Hill of Statesville, Kendra Hill, Sadie Hill and Paisley Hill of Jasper, Ga., and Emma Collings and Ensley Collings of Woodstock, Ga. She is also survived by her sisters, Lois Justice and Ann Stroud and husband Ken Stroud, and nephew Danny Laws of Statesville. There are also many nieces and nephews that survive her.
There will be a Graveside Service for family only, but they will have a Memorial Service later in the year.
In lieu of flowers, memorial gifts may be made to Hospice and Palliative Care of Iredell County, 2347 Simonton Road, Statesville NC 28625 or Front Street Baptist Youth Ministry, 1403 W. Front Street, Statesville, NC 28677.
The family would like to express their appreciation to the members of Hospice who comforted Miss Pauline on her journey home. Fond memories and condolences may be left at www.nicholsonfunerals.com.
Nicholson Funeral Home is serving the family.