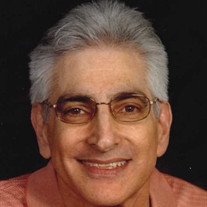 Peter W. Simowitz, 72, of Mooresville, N.C., (originally of Long Island, N.Y.) passed away suddenly on April 28, 2021. He was born May 28, 1948.
Peter is survived by his loving wife of 30-plus years, Linda; three sons from his previous marriage, Keith of Florida, Bryant (Gina) of Maryland and their sons, Jared and Thomas, and Garrett of Florida; and step-daughter, Barri (Louis) of New York and daughter, Paige; his step-mother, Diane Simowitz of Florida; two brothers, Steven (Pat) and Mark (Tish); and sister Janet. Peter is also survived by his and Linda's much-loved extended family of in-laws and many nieces and nephews.
Peter was preceded in death by his mother, Honey Lou Simowitz; father, Sidney Simowitz; and brother, Kenneth.
Peter courageously dealt with multiple sclerosis for nearly 30 years but had slowed down the last few years. He will be missed by his many friends, particularly those at the N.C. Auto Racing Hall of Fame (NCARHOF) in Mooresville, where he spent many years volunteering, and those at St. Patrick's Episcopal Church.
Everyone who met Peter knew he was a genuinely nice and caring person.
No services are currently planned. A celebration of life will be announced and held at a later date.
In lieu of flowers, please consider a donation to the N.C. Auto Racing Hall of Fame in Mooresville, North Carolina.
Cavin-Cook Funeral Home & Crematory, Mooresville, is serving the Simowitz family. Condolences may be made to the family at www.cavin-cook.com.