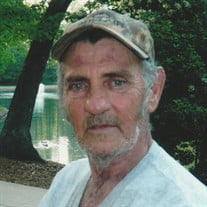 Phillip Lee Lambert Sr., 74, of Statesville, N.C., passed away on Sunday, June 13, 2021, at the Gordon Hospice House.
Mr. Lambert was born in Iredell County on June 1, 1947, and was the son of the late John Lambert and Gladys McDaniels Lambert. He attended Iredell County schools, and he retired from Dixie Seating, where he worked for 26 years as a band saw operator.
Mr. Lambert was married to Judy Boger Lambert, and together they shared 27 years of marriage before his passing.
Mr. Lambert was a man who loved the outdoors. He enjoyed fishing, hunting, and playing golf while his health would allow. He was an easy-going man, and he found enormous entertainment, being the "cut-up" of the family. He loved playing jokes and pranks on people. Mr. Lambert was a wonderful man and all things considered, nothing compared to the love he had for his family. He loved his wife and children with a deep passion. He also had a deep love for his grandchildren.
In addition to his parents, Mr. Lambert was preceded in death by one daughter, Tammy Lambert; two brothers, Allen Estes and Aspie Lambert; along with one sister, Polly Moore.
Along with his wife Judy, left to cherish the memory of Phillip Lambert are his three sons, Phillip Lambert Jr., John Lambert (Melissa) and Archie Lambert (Elizabeth); and two daughters, Michelle Welborn (Mark) and Ginia Lambert. He is also survived by 10 grandchildren, Arron and Brittany Welborn, Shelby, Eric, Jonathan and Isabella Lambert, Zach, Taylor, and Hayden Rush, and Brandon Garcia.
The family will be having a celebration of life and potluck dinner on Saturday, June 19, 2021, at the Statesville Soccer Complex Oak Shelter from 6 to 9 p.m. There will be a small service with Rev. Curtis White and Rev. Darrell Williams officiating and the family will be speaking with friends following the service.
Nicholson Funeral Home is honored to be serving the family of Phillip Lambert Sr.