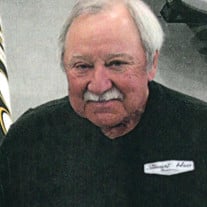 Raymond "Shorty" Francis Beauchesne, 74, of Mooresville, N.C., passed away on Sunday, October 3, 2021, in Ormond Beach, Fla.
He was born on April 28, 1947, in Lawrence, Mass., to the late Arthur and Josephine Paton Beauchesne.
Mr. Beauchesne served proudly in the U.S. Army. Since 1972, he has been involved in NASCAR, working for numerous race teams. The most recent team being Stewart Haas.
In addition to his parents, he was preceded in death by a brother, Tim Beauchesne.
He is survived by his brother, Robert Beauchesne and wife Carole; his good friend, Kathy Turner; and numerous nieces and nephews.
A Memorial Mass will be held at 9 a.m. on Saturday, October 16, at St. Therese Catholic Church, Mooresville.
In lieu of flowers, memorials may be made to Welcome Home Veterans Living Military Museum at Richard's Coffee Shop, 165 N. Main Street, Mooresville, NC 28115.
Cavin-Cook Funeral Home & Crematory, Mooresville, is serving the Beauchesne family. Condolences may be made to the family at www.cavin-cook.com.