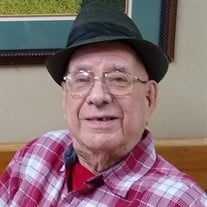 Rev. Roy Ivan Grant, 94, of Statesville, N.C., passed away peacefully on Monday, November 8, 2021, at Autumn Care of Statesville.
Rev. Grant was born September 14, 1927, in New Brunswick, Canada, and was the son of the late Stanley William Grant and Myrtle Edna Williams Grant.
He attended schools in Canada and in October 1948, he married Winnifred Tomkins Grant and together they shared 51 years of marriage before her passing in May 2004. After her passing, he later married Nellie Smith, who also preceded him in death in 2020.
A man of many talents, Rev. Grant owned and operated automotive body shops throughout his life as well as built his own homes. He served as a preacher of the gospel for over 60 years, having pastored churches in Canada, Maine, Connecticut and New Jersey. Rev. Grant was a man known for having a sweet disposition, and he was always available to anyone in need 24/7. That is the life he led.
In addition to his parents and spouses, he was also preceded in death by five siblings and a grandson, Isaac B. Craig.
Left to cherish his memory are his daughters, Susan J. Fraser and Sharon G Craig, along with five grandchildren, Amber Fraser, Heaven Garre, Chloe Hall, Dusti Hollar, and Dillan Hollar. He is also survived by five brothers, Berlin, John, Buster, Keith, and Paul Grant, and four sisters, Leona Morgan, Lois Broad, Rosella Rice, and Adelia Walton.
In order to honor the final wishes of Rev. Roy Grant, there will be a memorial service held in New Brunswick, Canada, at a later date.
Nicholson Funeral Home is honored to serve the family of Rev. Roy I. Grant.