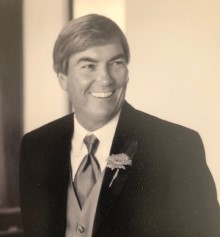 Richard Franklin Helms, 75, of Statesville, N.C., passed away on Thursday, September 2, 2021, in North Myrtle Beach, S.C.
Richard was born on April 6, 1946, in Monroe, N.C., to the late Howard Helms Sr. and Eloise Long Helms. He was a graduate of Monroe High School and Western Carolina University. On April 21, 1973, he married his wife, Teressa Derrick Helms, who survives. Richard served in the National Guard and later retired as a Sales Representative of A.O. Smith.
In addition to his parents, Richard was preceded in death by his older brother, Howard Helms Jr.
Along with his wife, Teressa Helms, Richard is survived by two children, Mary Ann Helms Armstrong (Ryan), and Richard Helms II (Leslie); five grandchildren, Bryson Armstrong, Caroline Armstrong, Porter Helms, Jack Helms and Lily Helms, all of Huntersville, N.C. Also surviving are his two younger brothers, Donald Helms (Vicki) of Cooper City, Fla., and David Helms (Denise) of Severn, N.C.; and in-laws, Wanda Helms of Grayson, Ga., and William and Gail Derrick of North Myrtle Beach, S.C.
A visitation will be held at First Baptist Church in Statesville, N.C., from 10 a.m. to 12 noon on Tuesday, September 7, 2021, with the memorial service following at 12 noon with Dr. Nelson Granade officiating.
Troutman Funeral Home is serving the family.