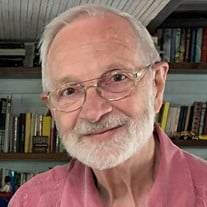 Robert George Hamilton, 76, passed unexpectedly to be with the Lord in His heavenly home on Tuesday, May 18, 2021. Rob was born on March 28, 1945 in Klamath Falls, Ore., to Edward Francis Hamilton and Phyllis Mae Hamilton. Growing up primarily in upstate New York, Rob enjoyed playing football, competing in track and field, and playing guitar in his band the Manhattan's (Ilion, NY).
Rob graduated from Ilion High School in New York, with the Class of 1963. He went on to obtain his bachelor's and master's degrees in Aerospace Engineering from The State University of New York at Buffalo.
Professionally, Rob started his career as the director for the Bureau of Identification for the New York State Division of Criminal Justice Services. He later would pursue his passion for information technology as vice president of product development with Bibliographic Retrieval Services, where he introduced new design methods for multi-user information retrieval for large IBM mainframes. Rob ultimately founded Enable Software, which was pioneering in delivering multi-user mainframe technology and integrated products to desktop-computing with applications such as word processing, spreadsheets and database management. Enable Software would go on to be acquired by the Microsoft Corporation.
Rob was a devoted husband, father, and grandfather. He loved watching his grandchildren's sports games, concerts and plays. He had many admirable attributes, but one of the most notable was his ability to uplift and encourage the lives of many — he shined God's love for others everywhere he went.
One of Rob's favorite sayings was "It's not how you weather the storm; it's how you dance in the rain." He was the nucleus of his family and loved to get the family together for holidays, family vacations, or just getting together up at the lake.
Rob had a strong spiritual faith and close relationship with his Lord and Savior, Jesus Christ. While his time with us seemed too short and we will miss him dearly, we know he is exactly where he is supposed to be as he now rejoices with his Lord.
Rob was preceded in death by his parents and daughter, Joanne Trevino.
He is survived by Mimi Hamilton, his loving wife of 57 years; brother, Dale Hamilton and wife Caroline; sister, Carolyn Hillegeist and husband Wayne; daughter, Renee Reed and husband David; sons, David Hamilton and wife Susan, and Gary Hamilton and wife Heidi; grandchildren, Courtney Giuliana Falconieri and fiance Daniel Di Stefano, Cassandra Helms and husband Kevin, Christopher Reed, Caitlyn Reed, Lauren Hamilton, Jack Hamilton, Grant Hamilton, and Brady Hamilton; and great-grandson, Santana Patton.
Services will be held in private at the convenience of the family. In lieu of flowers, the family is asking that donations be made to St Jude's Children's Hospital.
Cavin-Cook Funeral Home, Mooresville, is serving the Hamilton family. Condolences may be made to the family at www.cavin-cook.com.