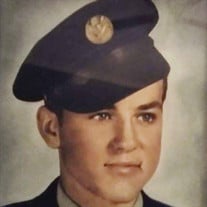 Mr. Roy Peter Little Jr., 93, of Statesville, N.C., passed away on Friday, October 29, 2021, at his home. Mr. Little was born in Iredell County on December 30, 1927, and was the son of the late Roy Peter Little Sr. and Brita Moose Little.
Mr. Little was retired from Fluro Daniel of Greenville, S.C., where he worked 40 plus years as a pipe fitter and retired as a mechanical engineer.
Mr. Little left high school to join the U.S. Air Force and served during WWII. While in the service, he received his high school diploma. He received the rank of Sergeant and was awarded the WWII Victory Medal and Army of Occupation Award.
Mr. Little was married to Christine Canody and together they raised three children. She preceded him in death in 1983. Following her death, Mr. Little married Fern Payne Little and she too preceded him in death in 2019. He was also preceded in death by a daughter, Debbie Little, as well as a grandson, Michael Joseph Little.
Left to cherish his memory are two sons, Richard Little (Christi) and Brian Little, along with four grandchildren, Steven, Erica, and Jason Little; and a step grandson, Colin Parsons. He is also survived by three great-grandchildren, Matthew Roberts, Bradley Danyels, and Dustin Little; and three great-great-grandchildren.
A service to celebrate the life of Roy Little Jr. will be conducted at 6 p.m. on Wednesday, November 10, in the Nicholson Funeral Home Chapel with Pastor Kenny Wallace officiating. The family will visit with friends following the service. An inurnment with full military honors will be conducted at 9 a.m. on Friday, November 12, at the VA National Cemetery in Salisbury.
For those unable to attend, you may be able to view the service live at https://view.oneroomstreaming.com/authorise.php?k=1635979134146235
Online condolences can be made to the family at www.nicholsonfunerals.com.
Nicholson Funeral Home is honored to serve the family of Roy Peter Little Jr.