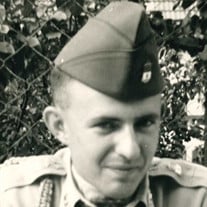 Russell Borkowsky, 82, of Mooresville, N.C., and formerly of Trenton, N.J., received his angel wings on October 22, 2021. He was born June 4, 1939, in Brody, Poland, and was the aon of the late Peter and Maria Borkowsky of Manahawkin, N.J.
In addition to his parents, he was preceded in death by his wife Claire to whom he was married to for 58 years and brother, Victor Borkowsky. He served in the U.S. Army from July 1963 to July 1965. He spent his time in Germany earning several medals, including the Good Conduct Medal, Expert (Bayonet), Expert (Rifle M-14) and Army of Occupation Medal (Berlin).
Russell was a machine operator for Burlington Mills for 25 years before retiring. He was a member of First Presbyterian Church of Mooresville. Russell also had a lifelong love for soccer and was an all-star player for Weequahic High School in Newark, N.J., and was the first soccer coach for South Iredell High School.
He leaves behind his daughter, Sharon Efird of the home; son, Walter and wife Joy Borkowsky of BelAir, Md.; grandson, Eric Borkowsky of Maryland; granddaughter, Lauren Borkowsky of West Virginia; grandson, Brandon and wife Caitlyn Adams of Troutman, N.C.; great grandson, Wyatt Adams of Troutman, N.C., and grandson, Evan Rayhill of Italy.
The family would like to thank Gordon Hospice House in Statesville, N.C., for the love and kindness they showed our family during Russell's stay.
Cavin-Cook Funeral Home, Mooresville, NC, is serving the family. Condolences may be made to the family at www.cavin-cook.com.