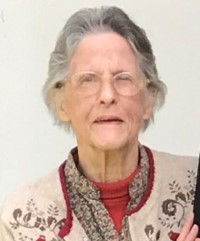 Ruth "Betty" Elizabeth Hutchens Haynes, 85, of Statesville, N.C., passed away surrounded by her children on Tuesday, August 24, 2021.
Betty was born November 26, 1935, in Iredell County and was one of 14 children born to the late William David "W.D." Hutchens and Julia Ruth Reavis Hutchens. She was the first in the family to graduate from Central High School, Class of 1953, and was a member of Hams Grove Baptist Church. She raised five children, worked at Beauty Maid Mills for many years and later worked at Iredell Memorial Hospital for 10 years. Her most rewarding job was being a mother, grandmother and great grandmother. She loved her family, her flowers, and feeding the birds and butterflies.
She is survived by four sons, David Haynes (Sandra) of Leicester, N.C., Joseph Haynes (Anne) of Statesville, Carroll Haynes of Panama City, Fla., and Timothy Haynes (Susan) of Statesville; one daughter, Ruth H. Prevette (Joe) of North Wilkesboro; nine grandchildren, Morgan Lea, Jessie Haynes, Tara Dalton, John Haynes, Joseph Haynes, Cheryl Pullis, Donnie Pullis, TJ Haynes, and Chase Prevette; and seven great grandchildren, Caroline Lea, Anna Marie Haynes, Parker Haynes, Emerson Haynes, Kyndall Dalton, Harper Dalton, and Isaac Dalton; six siblings, Richard Hutchens (Mary), Lorena Elliott (Jerry), Robert Hutchens (Linda), Christine Sloan (Howard), and Jacqueline Boland, all of Statesville, and Josephine Hager of Mt. Mourne, N.C.
In addition to her parents, she was preceded in death by seven siblings, William Hutchens, Annie Belle Campbell, Daniel Hutchens, James Hutchens, Esther Hutchens, Estelle Speece and Thomas Hutchens.
Graveside funeral services will be held at 10:30 a.m. on Saturday, August 28, 2021, at Hams Grove Baptist Church Cemetery. The family will visit with friends following the service.
In lieu of flowers, memorials may be made to St. Jude's Childrens Hospital.
Troutman Funeral Home is serving the family.