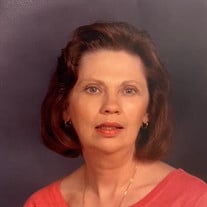 Sabra Lee Ashley, 74, of Lewiston, Idaho, and formerly of Statesville, N.C., entered into eternal life on Saturday, July 24, 2021, at Wedgewood Assisted Living in Lewiston after a 10-year battle with Alzeheimer's.
Born February 19, 1947,in Baltimore, Md., she was the daughter of the late Stanley Sterling and Edith Mason Sterling.
Sabra worked at Winn-Dixie in both Statesville and Mooresville in the Bakery/Deli for many years. She most recently worked at the Walmart Bakery in Mooresville until her retirement in 2012. She was a very skilled cake decorator and enjoyed making cakes for her customers.
Prior to her illness, Sabra was a member of Christ-Boulevard UMC. She was active in the United Methodist Women. She also attended Front Street Baptist Church in the Singles Sunday School Class.
Sabra will always be remembered as the "Neighborhood Mom" to all of her daughters' friends.
Those left to cherish her memory are two daughters, April (Craig) Miller of Statesville and Rikki (Jeff) Ober of Lewiston, Idaho; her grandchildren, Kyle, Austin, and Will Miller, all of Statesville, and Randy and Lizzie Ober of Lewiston, Idaho. She is further survived by her extended Ashley Family, Sue Ashley Vice, Steve (Tina Brown) Ashley, George Ashley, Joanie Ashley, and Deedee (Monica Maddox) Ashley, Cameron Ashley, Kim Ashley, and Amanda Ashley Cooper. She is also survived by her adopted Statesville family, Steve and Sherry Lackey, Kim Johns McHenry (Clint) and Weylin, Kellye Lackey, Lucille Harwell, and Mike and Libby Miller. She is also survived by cousins Charles (Winnie) Pruitt and Butch Sterling, both of Crisfield, Md., as well as her best friend from high school, Mary Ada Marshall of Tylerton, Md.
In addition to her parents, she was also predeceased by her brother, Stevie Sterling.
A Celebration of Life will be held on Sunday, August 29, 2021, at 3 p.m. at Nicholson Funeral Home with the Reverend Scott Chenevey officiating. The family will visit with friends from 2 to 3 p.m. and at other times will gather at the home of Craig and April Miller, 635 Central Drive, Statesville, N.C.
The family asks that donations be made to the Pregnancy Resource Center, 1710 Davie Avenue, Statesville, NC 28677.
The family appreciates Vassar-Rawls Funeral Home and Nicholson Funeral Home for serving our family.