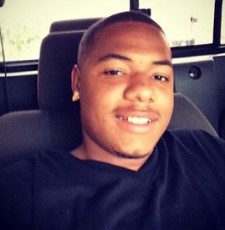 Samuel Green III's journey into life began April 14, 1992, in Vero Beach, Fla. He was the son of Samuel Green Jr. and Gwenette Jones Armand. He entered into eternal rest on Monday, September 27, 2021.
He moved with his family to Statesville, N.C., in 1995. He attended the Iredell-Statesville Schools System and received his high school diploma in June 2012. Samuel's favorite color was green and two of his favorite foods were chicken wings and shrimp fried rice. He had a love for sports with his favorite teams being the L.A. Lakers and Miami Dolphins. Samuel was very outgoing, full of life and no matter where he went he made a friend and always represented where he was from (704 & 772). In August 2019, he moved to Houston, Texas, to attend Universal Technical Institute, earning his degree in Collision Repair & Refinish Technology (CRRT) in February 2021 with the dream of having his own auto body shop.
He was preceded in death by his paternal grandmother, Mae Frances Green; maternal grandparents, Sammie Lee Jones Sr. and Loretta Young; and step-sister Anylah Hutchinson.
He leaves to cherish his fond memories his loving parents, father Samuel (Shelia) Green Jr. of Mooresville, N.C., and mother Gwenette (Donald) Armand of Gainesville, Fla; one sister Shasaty Taylor of Greensboro, N.C., and three step-sisters, Amani Hutchinson of Mooresville, N.C., Akeyla Hodge of New York, and Chekyra Baxter of Gastonia, N.C.; one brother, Malcolm (Deanna) Robinson of Harlem, Ga.; and three step-brothers Norman Neal and Donald Armand, both of Charlotte, N.C., and Damon (Cynthia) Armand of Pennsylvania, along with maternal uncle Sammie (Paula) Jones Jr., maternal aunts, Brenda (Ezra) Scarlett, Janice (Ronald) McGriff, Rosemary Jones, Candis (Johnny) Feaster and Vanette Jones; paternal uncle Jerome Green; aunts Francine Green and JoAnn; and his nieces and nephews. Also surviving are his fiancée, Tatiyanna Bazemore; special friend Shakia Hayes; special brothers Tony Byers and Dylan Toliver; and a host of loving relatives and sorrowing friends.
Rutledge and Bigham Funeral Home is serving the Green family.