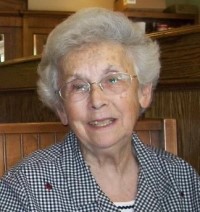 Sarah Elizabeth Compton, 91, of Statesville, N.C., passed away on Tuesday, May 11, 2021, at the Gordon Hospice House.
Sarah was born on October 19, 1929, in Iredell County and was the daughter of the late Ray Compton and Fannie Troutman Compton. She attended and graduated from Statesville High School.
Sarah retired from Jantzen after many years working for Hunter Brothers Textiles in Statesville, Troutman Shirt Factory and Drums Market.
She was a lifelong member and faithful servant of St. John's Lutheran Church in Statesville, where she served as Treasurer of the Katherine Von Bora Sunday school class.
Sarah enjoyed traveling, camping, gardening, sports, cooking and spending time with family.
In addition to her parents, Sarah was preceded in death by one sister, Betty C. Harrington, and two brothers, William Ray Compton and Bobby Compton.
She is survived by three nieces, Jane H. Saleeby, Annette H. Hendren and Maria Compton Warren, and one nephew, Thomas Ray Compton.
A funeral service will be held at St. John's Lutheran Church of Statesville on Sunday, May 16, 2021, at 2 p.m. with burial to follow at Oakwood Cemetery.
In lieu of flowers memorials can be made to St. John's Lutheran Church of Statesville, 740 N. Center Street, Statesville, NC 28677.
The family would like to extend a special thank you to the caregivers at Journeys of Statesville and Hospice and Palliative Care of Iredell County.
Troutman Funeral Home is serving the family.