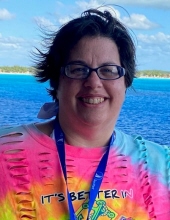 Sheri Allison, wife, mother, grandmother, businesswoman, passed away Friday, September 24, 2021, at Davis Regional Medical Center in Statesville, N.C., after a rigorous fight with COVID-19.
Sheri was born Sheri Lynn Goodall in 1971 in Gainesville, Fla., to parents Terrance and Linda Goodall. She graduated from Gardner Webb University with a BS in Business Management. As a photographer, she was able to capture fourteen years' worth of some of the most important and sentimental moments of people's lives. She opened Blue Phoenix Vinyl Boutique five years ago to supply specialty craft supplies to the crafty people of Iredell County and surrounding region. She was a pillar of the community by being involved in several events with the city, including setting up booths for various festivals, hosting Statesville's Most Deserving Woman, and much more.
Her family was everything to her and she did everything she could for them.
She is survived by her husband Bobby; their four children, Brandon (Bethany), Kory (Kayla), Caitlyn (Justin), and Nicholas (Kirah); grandchildren; Elaena, Grayson, Luna, Lexi, Niko, Archer, Madilyn and soon to arrive Delilah; and a brother, Kevin, and sister, Cindi; and countless friends who were like family and relatives across the country.
She was welcomed in heaven by her dad, Terrance, mom, Linda, and firstborn grandson, Phoenix.
She will be greatly missed by family and friends everywhere, but heaven has gained a wonderful new angel with a goofy sense of humor to crack jokes with her loved ones who preceded her.
A memorial service will be held Thursday, September 30, from 5 to 6 p.m. at The Cove Church Statesville Campus in Statesville, N.C.
Tallent Funeral Service is serving the family.