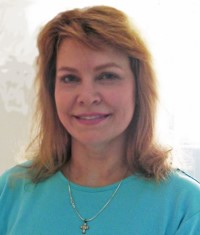 Sherri Leigh Hager, 62, has joined her father and mother in a better and more beautiful place. She passed away peacefully on Wednesday, September 8, 2021, at Serenity House in Mooresville, N.C. Sherri was born July 14, 1959, to the late Eugene S. Hager Jr. and Marjorie Hendren Hager.
She is survived by her brother, Bobby (Judy) of Statesville, N.C.
At an early age, Sherri showed talent in art and creative work. She graduated from Mitchell Community College, where she won the Louise Gilbert Art Scholarship. She then attended Catawba College, where she was in the honors program. Sherri received her B.A. from Western Illinois University Extension Learning.
She painted murals for Walmart, Lake Norman Medical Center, Iredell Memorial Hospital and others. Her most recent work was a mural painted during the services at First Baptist Church in Statesville. Sherri did illustrations for magazines, and she was involved in the Mitchell Theatrical Company designing costuming.
Sherri enjoyed working with abused children at Emergency Child Care Home of Iredell and had a life-long love of learning, creativity, beauty and animals. She rescued several pets with the most recent being her beloved Ragdoll cat, "Miss Priss."
Bobby and Judy thank all who helped Sherri in any way throughout her illness, especially Dr. Hart at Baptist Hospital and Serenity House in Mooresville.
Due to Covid-19, a memorial service will be planned for a later time.
Memorials may be sent to: Serenity House, 110 Centre Church Road, Mooresville, NC 28177 or a charity of your choice. Condolences may be left online for the family at www.bunchjohnsonfuneralhome.com.
Bunch-Johnson Funeral Home is honored to be serving the Hager family.