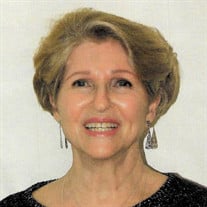 Shirley Byrd McRee, 83, died at home under the care of Hospice and Palliative Care of Iredell County on Thursday, July 29, 2021. In the words of her husband of 55 years, "She was my Sojourner in the Lord, a devoted wife to me, Mother to our two daughters, and the closest Friend of my life."
Born in Statesville, N.C., the daughter of the late Weaver Odell and Cora Bell Fox Byrd, she had a wonderful childhood as the fourth of five siblings. After graduating from Statesville High School, she moved to Charlotte, N.C., where she graduated from UNC-Charlotte with honors. Her first part-time job turned into a full-time career in the financial brokerage business.
She enjoyed writing, reading, singing, sculpting, oil painting, and traveling. Most of the joy in her life came from serving the Lord and her family. She met her husband Robert in Charlotte in 1966; in 1971 they adopted two sisters, Jean and Nancy, who were special gifts from the Lord.
She is survived by her husband Robert, daughter Jean; eight grandchildren; and four great-grandchildren, as well as a number of nieces, nephews, and other relatives.
The family gives heartfelt thanks to the special nurses and attendants of Hospice and Palliative Care who took such loving care of her.
A celebration of life will be held Thursday, August 12, 2021, at 11 a.m. at St. John's Lutheran Church with Rev. Ernie Sheldon officiating. Burial will follow at Forest Lawn East in Matthews, N.C., at 3 p.m.
In lieu of flowers, memorials may be sent to St. John's Lutheran Church, 740 N. Center Street, Statesville, NC 28677or to Hospice and Palliative Care of Iredell County, 2347 Simonton Road, Statesville, NC 28625.
All arrangements are being provided by Nicholson Funeral Home.