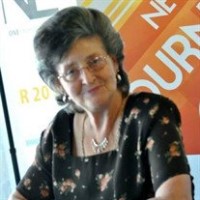 Shirley Ruth Mills Wiles, 79, of Statesville, N.C., passed away Saturday, March 6, 2021 at Autumn Care in Statesville. She was born Friday, September 5, 1941, in Iredell County to the late Stamey Mills and Sarah Small Mills.
In addition to her parents, Ruth was preceded in death by her husband, Bill Wiles; two daughters, Jewel Whiteside and Susan Isenhour; three brothers; and three sisters.
Ruth is survived by one son, Rickey Isenhour of Conover; one daughter, Shirley Isenhour Bost of Statesville; four grandchildren, Crystal Howell and husband Andy, Jonathan Isenhour and wife Ashley, Jennifer Tamson and husband Nick, and Jason Bost Jr.; and seven great grandchildren, Landon, Dylan, Isabela, Wyatt, Macyn, Sima Anne, and Lorna.
A Memorial Service will be conducted at a later date and announced by Chapman Funeral Home.
Chapman Funeral Home is honored to be serving the family of Shirley Mills Wiles.