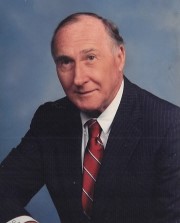 Stamey Jones Holland Jr., of Statesville, N.C., passed away peacefully on February 3, 2021, at the age of 97 at his home with his son and loving caregivers at his side. He was born in Statesville on August 28, 1923, the son of the late Stamey Jones Holland and Neva McClelland Holland.
He was a graduate of Statesville High School, Class of 1940. He received a B.S. Degree in Commerce from the Business School at the University of North Carolina at Chapel Hill in 1946. He was a member of Kappa Sigma Fraternity at UNC. He continued graduate studies in real estate investments and appraisal practices at UNC and the Business School of the University of Tennessee and Harvard University.
Stamey served in the U.S. Army in World War II from 1943-1945. His service was in North Africa and Italy, with an infantry rifle company of the 34th Infantry "Red Bull" Division. In Italy, he took part in the battle for Monte Cassino and then was on the Anzio Beach Head for more than two months. For his military service, he received the Bronze Star for "Heroic and Meritorious Service," two Purple Heart medals and the Combat Infantry Badge, among other honors. He often recalled that his time in combat and the infantry was a turning point in his life.
He decided in high school, during the Depression of the 1930s, that he wanted to enter the real estate business. His education and lifelong work was spent in real estate and development. After completing his education, he decided that he should learn the mortgage business prior to starting in real estate. He was employed by Jefferson Pilot Life Insurance Company, in the Mortgage Loan Department, at its home office in Greensboro, N.C., from 1948 to 1951, where he met his bride to be, Mary Gordon.
Stamey and his brother, William D. Holland, formed Holland Realty and Mortgage Corporation on April 16, 1951. He was a member of the first class of the Realtors Institute, which was held at Chapel Hill in 1948. He was elected to membership in the American Institute of Real Estate Appraisers and awarded the MAI professional appraisal designation in 1956, becoming the ninth real estate appraiser to receive this appraisal designation in North Carolina. Stamey was a charter member of North Carolina Chapter 40 of the Appraisal Institute, which formed on November 4, 1957. He was the last surviving member of the original 14 members. He was awarded a Life Memberships in the Appraisal Institute in 1994, and was the only MAI member in Statesville. He was a charter member of the Statesville Board of Realtors and served as President in 1964. He was also a charter member of the Charlotte Commercial Board of Realtors, formed in 1994. In 2009 he was awarded the status of Realtor Emeritus by the National Association of Realtors for continuous membership as a Realtor from 1948-2009, a total of 61 years. He and his son, Stamey III, built, manage and own office and commercial properties in North Carolina. Stamey had a lifelong interest in farming and the livestock business. He started buying land in the 1940s and developed it with residential subdivisions, commercial and industrial properties.
In his earlier days, he was active in civic and community affairs. He was a member of the Rotary Club, a director in the Chamber of Commerce, the Downtown Development Corporation, Brookwood School and a member of the Greater Statesville Development Corporation. He was a member of the group that organized the Statesville YMCA in 1976. He was a life member of the Purple Heart Organization and helped form the local chapter. He also served as a director of the local bank boards of Northwestern, First Union, Home Federal, Southern National and BB&T. He was Secretary of the Mitchell College Foundation Inc. since 1968, prior to the college becoming a part of the N.C. Community College System and served until the Foundation was liquidated in 2005 and the assets distributed to the College.
Mr. Holland was a lifelong member of the First Presbyterian Church and was one of the first children baptized in the present church in 1925. He served as a Deacon and has been a member of the Young Men's Bible Class since returning from World War II.
On March 31, 1962, he was married to the love of his life, Mary Gordon Holland of Lexington, N.C., who preceded him in death on June 20, 2017. Survivors include his son, Stamey J. Holland III of Statesville; daughter, Martha "Marcie" J. Holland and husband Anthony V. Stais and granddaughters, Elizabeth and Meredith Stais, all of San Francisco, Calif. His brother, William D. Holland, preceded him in death.
The family would like to give special thanks to his wonderful caregivers and Hospice of Iredell County for their love and care shown to Mr. Holland.
Mr. Holland will lie in repose at Troutman Funeral Home on Sunday, February 7, from 12 noon until 5 p.m. and on Monday, February 8, from 9 a.m. until 12:30 p.m.
Graveside services will be held at the family plot in Oakwood Cemetery on Monday, February 8, 2021, at 2 p.m. with Rev. Jeremy Cannada and Rev. Grant Sharp officiating.
In lie of flowers, memorials may be made to the First Presbyterian Church, 125 North Meeting Street, Statesville, NC 28677 or to a charity of the donor's choice.
Troutman Funeral Home is serving the Holland Family. Online condolences may be made to the family at www.troutmanfuneralhome.com.