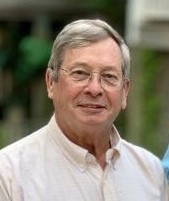 Stuart Holland Deal, 70, passed away peacefully at home on Sunday morning, November 7, 2021, after a valiant battle with brain cancer. He is survived by his high school sweetheart and wife of 47 years, Susan Stockton Deal; his two daughters, Mary Stuart Seifarth (Matthew) of Hagerstown, Md., and Elizabeth Watson (Jesse) of Clemmons, N.C.; grandchildren Emma Kate and Henry Watson, and Chetwood and Conrad Seifarth; siblings, Harvie Ann Cox (Jim) of Moultrie, Ga., Brandt Deal of Winston-Salem, N.C., Kim Deal of Winston-Salem, N.C., and Ashley Wagoner of Kingston, Wash.; and sister-in-law Peggy Parker (Dick) of Manteo, N.C.
Stuart was the third of five children born to Roy Chetwood "Dick" Deal Jr. and Virginia Elizabeth "Betty" Capps Deal. After graduating from R.J. Reynolds High School in 1969, Stuart attended Hampden-Sydney College in Hampden Sydney, Va., where he was on the wrestling and rugby teams and was a member of the Kappa Alpha Fraternity. After graduating in 1973, he worked for J.W. Burress Inc. as a heavy construction equipment sales representative, retiring after 45 years in 2019. Stuart was a long-time member of Duck Creek Gun Club and First Presbyterian Church in Statesville.
Stuart never met a stranger. Though he enjoyed his work, his passion was spending time outdoors hunting, fishing, camping and traveling. He loved carving decoys, restoring his 1951 Willys Jeep, reading a trout stream, knowing where the turkeys would show up and the best tides in which to catch a drum. As a scout leader of Boy Scout Troop 169 of Statesville and a camp counselor at Camp Hanes, Stuart helped several generations of young people learn to appreciate the great outdoors and its wonder, but most of all he loved sharing these things with his grandchildren.
Anyone who knew him will truly miss his contagious smile and laughter, his ability to tell a great story as well as the perfect joke, and his endless love for his family and friends.
In lieu of flowers, memorials can be made to the charity of your choice.
Troutman Funeral Home is serving the family.