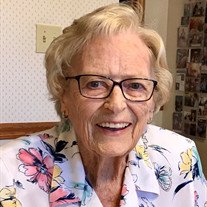 Early in the morning on March 28, 2021, (Palm Sunday) and with her sons holding her hands, Susie Lee Brown Davis entered the gates of heaven, welcomed by many of her family and friends.
Delightful, loving, family-oriented, empathetic, and independent, Susie had recently celebrated her 96th birthday.
Susie was born February 12, 1925, to James Lee and Bessie (Sloop) Brown in Rowan County near the Iredell County line. Susie was the first baby delivered by Mooresville's new doctor Allen Barry Sloan, who also delivered Susie's first child (Sharon) in 1946 and then delivered Sharon's first child (Lisa) in 1964. Susie lived in Mooresville and Mount Ulla all her life, graduated from Mount Ulla School, and lived across from the school for the past 31 years.
Susie worked at Cascade Mills when she met her husband, Claude Emerson Davis, and they married on August 8, 1945, while Claude finished his tour of duty with the U.S. Navy. They raised three children, Sharon Morrow Heinrich, Ronald Barry Davis and Claude Gary Davis. Susie worked as a church secretary and then in the insurance industry for many years. She co-founded The Insurance Center in Mooresville and was later joined there by Claude. They retired from the firm in 1986.
Together, Susie and Clause enjoyed gardening, birdwatching, games, close friends and relatives, and mountain trips for many years. They were both lifelong active members of Triplett United Methodist Church, serving as members of the choir and Sunday School teachers for many years. Susie was an avid UNC basketball fan.
Susie was preceded in death by her parents, her husband Claude, daughter Sharon, and grandsons Drew Davis and John Morrow.
She is survived by sons Ron (Sharon) Davis of Wake Forest, N.C., and Gary (Cindy) Davis of Sandy Springs, Ga.; granddaughters Kristin Davis (Stephen) Harris of Wake Forest, N.C., Mackenzie Davis (Josh) Luke of Bogart, Ga., Lisa Morrow (Devin) Chase, Regina Morrow (Cody) Nesbitt and grandson Austin (Sarah) Davis of Canton Ga., seven great-grandchildren and many nieces and nephews.
Susie and her family greatly appreciated the special attention and care provided by niece Teresa and Carl Moore, granddaughter Gina Nesbitt, nephew Bill Howard, great nephew Jon and Amy Bolmer, Patsy Belk, Jim Barber, David Louissaint and the staff of Carolina Caring and many more!
A service to celebrate the life of Susie will be held at Centenary United Methodist Church at 1 o'clock p.m. on Saturday, April 10, 2021, followed by a private graveside service.
In lieu of flowers, donations are welcome to Carolina Caring (by mail to 3975 Robinson Road, Newton NC 28658 or online at https://www.carolinacaring.org/give).
Cavin-Cook Funeral Home & Crematory, Mooresville, is serving the Davis family. Condolences may be made to the family at www.cavin-cook.com.